You know everyone thinks we're crazy, right?
To most people, social media is a joke.
You can't make money with it. It doesn't help your business. It's a hobby, a diversion, a fad…and most of all, it's a big fat time waster.
Or is it?
Is it possible to get a direct return on investment (good ol' cash) from social media?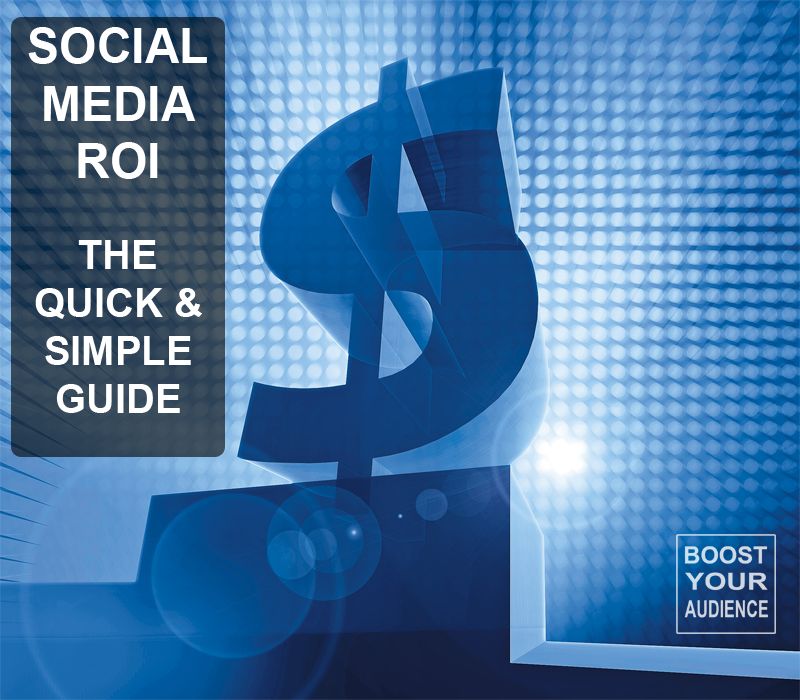 Well, if there wasn't potential…companies like Facebook wouldn't be worth 200 billion dollars.
So let's look at this thing called social media ROI.
It's what you get back from all the time, effort and resources you put into social media.
And it's best calculated in dollars.
If you want to track ROI, you'll have to…
Find out how much money you invest in social
Put a dollar figure on your social goals
Of course, to get the fancy percentage those nerdy analysts talk about, you have to do math like this:
ROI = (return – investment) / investment
"What's the ROI of X, Y, Z? …It depends." – Gary Vaynerchuk
What he means is, this whole subject could get really complicated if we let it. (But let's not let that happen, okay?)
Here's why most people think there's no ROI in social media.
Rand Fishkin of Moz has a picture (with a caveman on it) that says:
"Me make content. Humans click. Them buy. Me get money."
Wrong!
…As Rand points out.
In the real world, he says it actually works more like this:
Me make content. Humans click. If them like, them remember. Maybe them see more stuff I make. Visit again. Humans start trust me. Them buy.
…As you see, we have a whole lot of things we could measure.
Here are some these things you could look at:
New followers
Clicks on a link in a post
Online purchases
Filled out contact form
Signups for newsletter
Downloads of a .PDF file
Time spent on an important webpage
Which of these do you want to look at the most? Choose one of these and start tracking.
Google Analytics is great for measuring website actions (sales, downloads, signups).
But how can you track things with social media?
Twitter Analytics is a great free tool for Twitter.
And for a whole lot of links I put on social media for clients, I paste the link into this handy "URL Builder" tool from Google:
https://support.google.com/analytics/answer/1033867?hl=en
…You have to scroll halfway down the page to use this weird but useful tool.
Simply fill in the form fields marked with an asterisk and click "Generate URL."
It spits out my original link, but with an awfully long bunch of code stuff at the end.
I'll copy this whole mess and paste it into bit.ly to get a nice, short link again.
A link that even fits into those tiny tweets.
Why do I do all this?
Google Analytics.
Clients can see instantly that I'm sending them traffic. And then they can actually measure how much that traffic's worth.
Hey, I'd better go check this now. I may need to raise my rates. (Wink.)
How To Calculate Your Investment
While social media is free to use, your time is not.
What's your time worth?
(That's why people hire social media managers.)
But if you're a single parent, desperately working away in your basement apartment (between diaper changes) …and hiring someone is out of the question…
Know that your time is valuable!
You don't have to work in the corner office at the top of an ivory tower to put a high value on your time!
Do you know how much your time is really worth?
And those social media tools? Many are free, but some cost money. Add that in too.
And then there's advertising spend (if you do that.)
The Oft-Misunderstood Value of Your Goals
All of those goals (new followers, clicks on a link, etc.,) lead toward one thing – customers.
Are customers only worth the average sale amount – the $9.95 ebook you sold them?
I think they're worth FAR more.
Customers have a lifetime value. How much do you earn, on average from your customers?
Here's a calculator:
http://customerlifetimevalue.co
You might want to multiply lifetime value by your conversion rate (how many people visit versus how many buy.)
And again, if you're paying for ads, be sure and factor that in.
How To Put This All Together
And there you have it. A way to calculate your investment – and your goals.
As the days go by, compare your investment with your progress toward your goals.
If you're a visual person… (there's probably smoke coming out your ears by now) …so here's a handy infographic on social media ROI by Neil Patel.
The Real Reason I Wrote This Article
I felt like I had to say all this.
I love social media. And the only way this whole field can move forward…is for all of us to share what we learn.
I'm hoping that I can do more than merely inform. It's my goal to inspire you to reach for your business targets and dreams.
(Of course, I love to get paid for using social too.)
I just want more people to know that you CAN make money with social media.
Let's change that, okay?